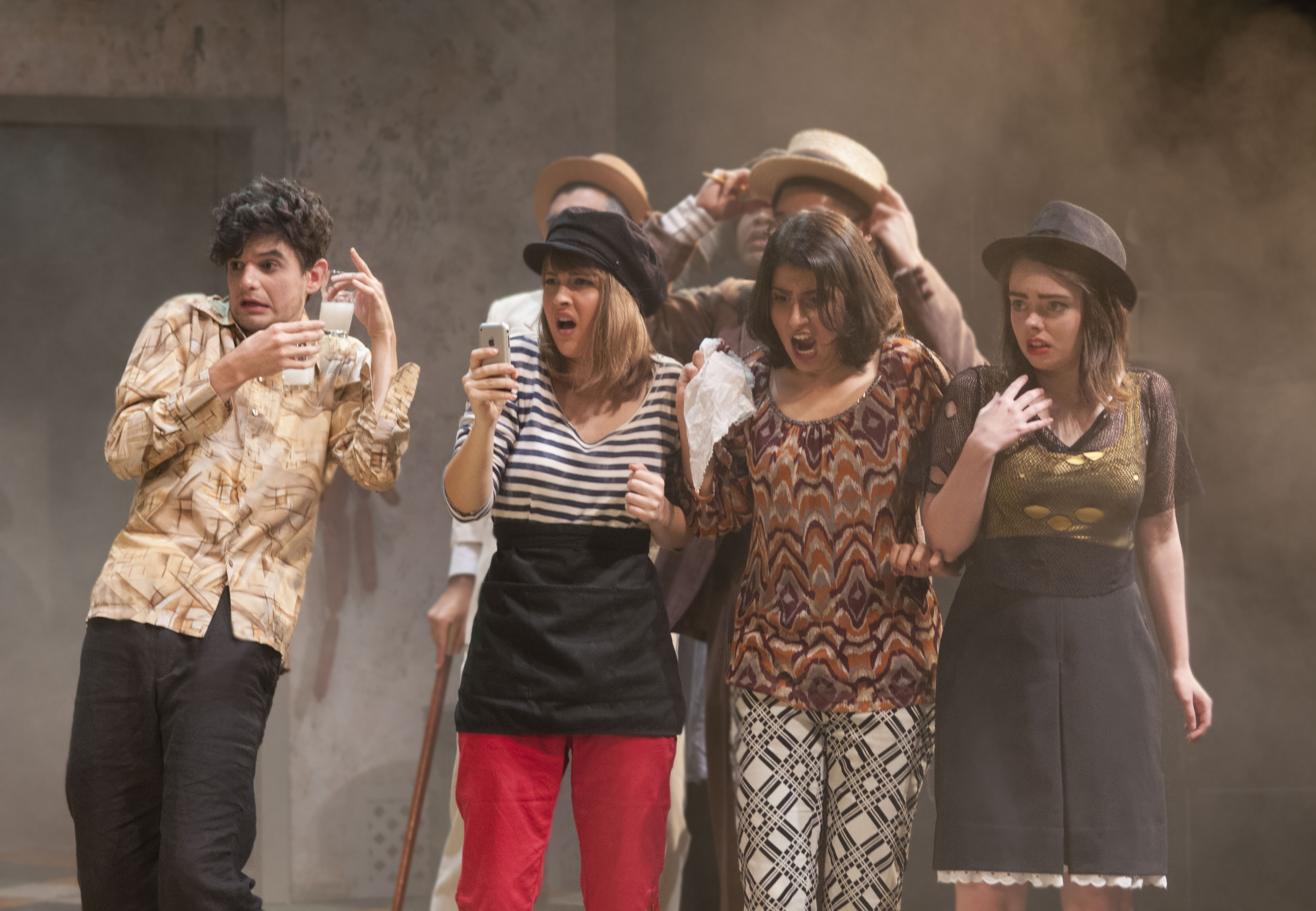 Director. Rhinoceros, by Eugène Ionesco, translated by Martin Crimp.
U.C. Berkeley / Berkeley, CA / Nov. 2014
My production of Eugène Ionesco's absurdist classic Rhinoceros focused on the rhinoceroses themselves, asking anew what they are and what they can be taken to mean. I was prompted by a recent groundswell of artistic experimentation, scholarly inquiry and political activism around the figure of the animal to ask how we make animal abstractions out of the stuff of our own lives, assigning meaning to our non-human Others as it suits us. But what if, as Dudard asks towards the end of the second scene, "rhinoceroses exist, that's all?" What if "they mean what they mean?" Given the dubious track record of "the human" as a category of social and political being, it's at least conceivable that we might have more luck with something else. To put it differently: Rhinoceros doesn't have to be a play about conformism; instead, it just might give us a sense of what forms of belonging are possible if we look beyond ourselves.
My 2014 mainstage production at the University of California, Berkeley's Department of Theatre, Dance & Performance Studies was designed by Annie Smart (set and costumes), Jack Carpenter and Misha Gregg (lighting) and Hong-June Park (sound). Martha Herrera-Lasso served as dramaturg. The rhinoceros puppets evolved out of a set of initial designs that I supplied, and were realized rather spectacularly by costumer Jane Bogess and scenic artist Glynn Bartlett.
This production showcased the always-amazing talent of Berkeley's undergraduate actors and was stage managed by James T. McGregor. All photographs courtesy of Melissa Schultz at TDPS.